Tele AlNiCo 3 Neck
Item #: 10-105-11

Ratings Snapshot
Would recommend this product.
---
Product Details
Looking for clarity? Then this is the neck pickup for you. The Lollar Alnico 3 produces an unusually clear tone with even frequency response. Compared with the Lollar '52 series, the Alnico 3's overall output is lower while the bass tone is leaner and tighter. This neck pickup uses Alnico 3 magnets, 43-gauge wire, wax potted coils, and vintage style cloth covered lead wire.
DC: Neck 8.7K
Chrome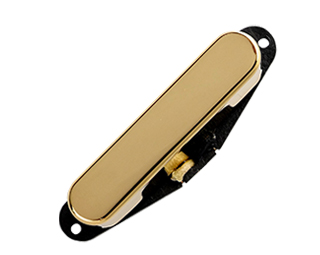 Gold
Unplated
Nickel
What They Are Saying
Ratings Snapshot
Would recommend this product.
Would recommend this product.
Sweet Crisp Tone!!!
Kendall
Location: PA
Date: January 15, 2018
The Alnico 3 neck pickup by Lollar Pickups is PHENOMENAL! This pickup was super easy to install into my Standard Fender Telecaster and immediately gave the clarity and response I was looking for. In the neck position, this pickup gives well rounded warm/clean tone that is crisp and clear. The previous pickup I had installed was muddy with to much bass. The Alnico 3 pickup kept the darker tone I desired without muddying the signal. This pickup pairs well with a hotter bridge pickup in second position. It adds a bit of top end without losing the crispness and clarity of the pickup. I STRONGLY recommend this for anyone who likes a darker clean tone.