P-90 SoapBar Overwound (Bridge Only)
Item #: 10-301-1213

Ratings Snapshot
Would recommend this product.
---
Product Details
This soap bar version is wound 5% hotter than the stock bridge making it ideal for pushing an amp a bit harder. It also adds a warm, sweet top end to a brighter guitar while also giving you rich low end and strong, clear mids.
DC: Bridge 9.45K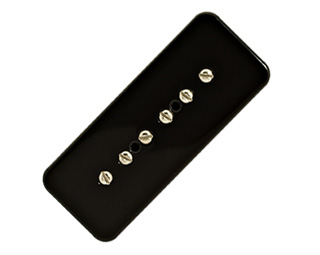 Black
Cream
What They Are Saying
Ratings Snapshot
Would recommend this product.
Would recommend this product.
Wow
Aaron
Location: Troy, AL
Date: March 6, 2018
I've owned a bunch of guitars and tried a load of pickups over the years looking for "that tone". gretsch, strats, gibsons, you name it. I recently got an MJT tele with lollar P90s (underwound in the neck, overwound in bridge) and they are my new favorite pickups. everything you love about single coils with some extra girth. the bridge is full of midrange which is PERFECT. and its a little honky. definitely a great counterpart to the underwound neck.