Wound for Glory
An article in Guitar World Magazine, December 2004, by Eric Kirkland
Jason Lollar is widely considered the Moses of pickup winding. His book "Basic Pickup Winding and Complete Guide to Making Your Own Pickup Winder", set off the industry's aftermarket pilgrimage to achieving better tone through better pickups. Lollar's constant goal is to wind pickups that have both character and clarity. Small wonder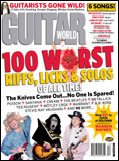 he is called upon to build pickups for tone gurus like Billy Gibbons, Robert Randolph and Peter Stroud.

Now Lollar is making his creations available to the public, bringing the tones of guitar gods to mere mortals. The three new pickups I reviewed boasted exceptional build quality and remarkably nuanced tone.

Lollar's Vintage Blackface Stratocaster pickups are wax potted, scatter-wound around Alnico V flat poles, and voiced for late-model Blackface amps. In my '67 Deluxe, they made each note clear loud and round. A smoky haze lingered and seeped into the wide spaces between notes, providing more flavor and heft than original Fifties-style single-coils.

The Imperial PAFs are wound to replicate Seth Lover's original humbuckers. Placed in a Les Paul and used with a Marshall Plexi, the Imperials were full and harmonically thick, with the top-mid kick and late bloom. Lows were tight and fast but never sterile, and the open mids produced heart-wrenching blues and classic rock tones.

Produced using the same process Lollar developed in 1979, the Soap Bar P-90s boast a wide frequency response and sound clearer and stronger than any other P-90 I've heard. They produced pianolike clean tones and distinguished themselves by rumbling and roaring with dirty tones while maintaining an extremely low noise floor.

It's nice to know Lollar will gladly custom-wind pickups to meet his customers' requirements. It's even nicer to know extraordinary pickups such as these are now available over the counter.