P-90 SoapBar
Item #: 10-301-11

Ratings Snapshot
Would recommend this product.
---
Product Details
Our flagship pickup and an industry standard. This pickup is scatter wound with de-gaussed Alnico 5 bar magnets, giving you a fat, clean tone with a smoother treble making it ideal for harder, driving rock with more grind. It sounds like an old P-90 rather than a new pickup with hard edges.
The neck and bridge volumes are nearly equal when playing chords, with the bridge sounding slightly hotter when playing single notes. Pickups can be purchased separately or in matched two or three piece sets. RWRP sets for hum-canceling operation with single conductor and braided shield lead wire. Available with black, cream or white covers.
DC: Neck 8.2K, Middle 8.73K, Bridge 9.1K
Lollar P-90 Soap Bar Pickups

All P90 Soap Bar soundfiles with clean and dirty tone were played by Greg Timmons using a Agile LP copy and a brown Fender Vibrolux amp.

This song is from the Supersucker's EP of the same name. The guitars on this clip use our P-90 pickup.Hear more of the Supersuckers at www.supersuckers.com

All guitar sounds were recorded with our stock P-90 set in a Les Paul and played through a Vox amp, with no extra equalizing during mix down.

Clip 1 using our standard P90s played with mild overdrive.
Clip 2 using our standard P90s played with overdrive.
Tim Lerch Demos Lollar P-90 Pickups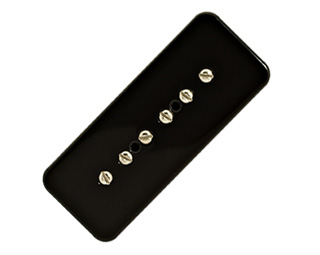 Black
Cream
What They Are Saying
Ratings Snapshot
Would recommend this product.
Would recommend this product.
Thats the ticket!
NickB
Location: Bellingham, WA
Date: March 16, 2019
I was struggling with my LP classic. It was really dark and muddy. The stock neck pickup was super bass heavy and way louder than the bridge, even slammed to the body. I am so impressed at how the Lollar p90s transformed my guitar. It is now bright, articulate, and balanced, (I went with the underwound neck and standard bridge combo recommended for my situation.) I also installed new 500k pots and .015 caps. For me, this took a well made instrument with afterthought electronics to an absolute keeper. Top quality as always with Lollar.
Artisan crafted P90s
Chris W.
Location: Richmond, Va
Date: January 26, 2019
Dropped these in my 2007 PRS McCarty to replace the SD's that were in it that were way too hot...not really what I consider a p90 sound. These Lollars sound very, very good. Beautiful clarity. The neck pickup has a phenomenal, gorgeous tone. Wow! The bridge is also voiced very nice...not too hot where it would loose the p90 sound and character, just right. The magic is in the hight adjustment. They're very sensitive to it, so take your time and experiment to find that magic spot. Very well done p90s!!! Thanks Lollar!
Brilliant!
Mighty Mark
Location: Amsterdam, The Netherlands, Europe
Date: December 2, 2018
Got a set of P-90's from local Lollar dealer Fern's guitars in Amsterdam. I'm blown away with the frequency range these pick-ups bring. My axe never sounded like this before. Some amazing tones coming out of this and very musical & inspirational for my playing. I would recommend these pick-ups to anybody looking for replacement pick-ups. Truly Wonderfull!
Wow
bassetman
Location: Pomeroy Washington
Date: October 10, 2018
Everything you want in a p90. Clean or dirty. Soft or loud it's the best p90 sound I've found. Matches well with the "J Street" bridge in a Tele. When p90this is the sound.
If God Played Guitar With P90 Pickups.....
Jonathan
Location: San Francisco, CA
Date: May 27, 2018
These would be the ones he/she would use. Heavenly is the best word I am think of to describe them. Believe me. I'm not the type of person who ever gives a completely glowing revie of ANYTHING. Before Lollar it always seemed like ever guitar I played was always somehow in someway fighting me. But my guitar with the Lollar P90s it almost feels like it plays itself.
Awesome tone
Lowell H
Location: Huntington Beach Ca
Date: Apr42l 26, 2017
I put together a Warmoth guitar several years ago and got the Lollar matched set of 3 P90 pickups direct from Lollar. I like it so much I may build another one soon ! i have about 30 guitars and this is the one I use on gigs most often....3 P90s and awesome tone !