P-90 Jazzmaster
Item #: 10-303

Ratings Snapshot
Would recommend this product.
---
Product Details
Lollar P-90s offer more midrange and a smoother attack than a typical Jazzmaster® pickup. This allows you to get greater growl and grind when you turn up your amp for distortion. Made with adjustable poles and RWRP for in-phase and humbucking operation when combined with the Jazzmaster® neck. Available in standard neck, underwound (-5%) neck, and bridge.
DC: Neck 8.3K, Neck (-5%) 8.0K, Bridge 9.4K
Note: Lollar P-90 pickups fit our Jazzmaster® pickup covers without requiring any modifications to your guitar.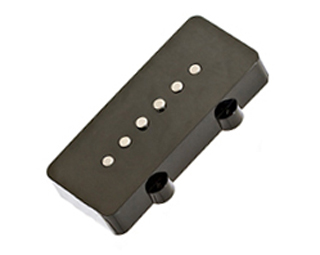 Black
White
Ivory
Cream
What They Are Saying
Ratings Snapshot
Would recommend this product.
Would recommend this product.
Bridge Position in Squier J Mascis
Buck Thunderpants
Location: Austin, TX
Date: February 16, 2018
Overall: I recently installed the JM P90 from Lollar in my Squier J Mascis JM. The stock pickups are essentially P90s already and while they will get the job done it wasn't long before I wanted a upgrade. The worst that can happen after a upgrade like this is that you don't really notice a change after the switch. That wasn't the case here at all. I noticed a immediate and significant improvement. A guy I play with noted it sounded more 'focused' and that's probably the best description. There was more individual string clarity while playing chords, it was notably quieter in terms of noise, and when I turned my fuzz on it seemed angrier than it did before. It was just better. If you're looking to upgrade a Squier JM JM this is a great place to start. Installation: The truth is under the hood my JM's wiring from the factory was pretty unlike any of the JM schematics I saw online. It approximated what I expected, but was different enough to cause some initial confusion. In addition, the original soldering job was pretty garbage. However, None of that applies to Lollar. My only real criticism for Lollar in this case is that my JM P90s came with instructions to install their soap bar or dog ear P90s in a Gibson Guitar, which made me wonder why they included instructions at all. Additionally, they do not have a guide, tutorial, or video on their website for a JM guitar. I was able to figure it out, but it really shouldn't come down to a guessing game. Why not put together instructions for a product you offer? In the end I was really pleased with the results, so I can easily recommend it as a replacement for the original pickup. I found after the upgrade that I really liked using both pickups together far more than I did before the upgrade. My Setup: Squier JM Jazzmaster (everything is stock except for this upgrade) Fig Fumb > Silver Archer > Small Clone > Super Moon Fender Bassbreaker 45 combo.