P-90 DogEar
Item #: 10-302-1

Ratings Snapshot
Would recommend this product.
---
Product Details
Our flagship pickup and an industry standard. Scatter wound with de-gaussed Alnico 5 bar magnets, the P-90 soapbar gives you a fat, clean tone with a smoother treble ideal for harder, driving rock with more grind. It sounds like an old P-90 rather than a new pickup with hard edges.
The neck and bridge tones are nearly equal, with the bridge sounding slightly hotter when playing single notes. Pickups can be purchased separately or in matched two or three piece sets. RWRP sets for hum-canceling operation with single conductor and braided shield lead wire. Available in black or cream pickup covers.
DC: Neck 8.2K, Middle 8.73K, Bridge 9.1K
You can also purchase a Shim Pack for Dog Ear pickups, which contains the six most commonly used shims. They can also be stacked for optimal height.
Lollar P-90 Dog Ear Style Pickups

All P90 Soap Bar soundfiles with clean and dirty tone were played by Greg Timmons using a Agile LP copy and a brown Fender Vibrolux amp.

This song is from the Supersucker's EP of the same name. The guitars on this clip use our P-90 pickup.Hear more of the Supersuckers at www.supersuckers.com

All guitar sounds were recorded with our stock P-90 set in a Les Paul and played through a Vox amp, with no extra equalizing during mix down.

Clip 1 using our standard P90s played with mild overdrive.
Clip 2 using our standard P90s played with overdrive.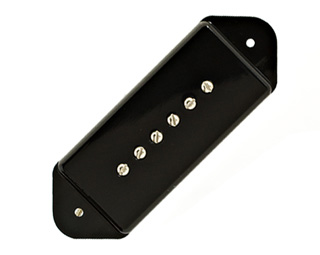 Black
Cream
What They Are Saying
Ratings Snapshot
Would recommend this product.
Would recommend this product.
New life for 2000 Epi Casino
JCT
Location: Temple Hills, Md
Date: February 8, 2019
Rebuilt an ok Peerless Casino with Lollar P90 dogears. Staff steered me away from metal covers and the result has a truly fine sound -- sweet, clean tone with a lot of punch. Couldn't be happier.
Sweet and crunchy
Woodchuck
Location: Suisun City, California
Date: November 24, 2018
Years ago my work horse was a 54' Junior. It had the sweetest, crunchiest tone I ever heard. Due to a family emergency, I had to sell it. Fast forward to today and the same guitar is unaffordable and out of reach. After extensive modifications on an Epi Junior, includ- Ing a Lollar dogear, I have my Junior back!
P90 dog ear Vintage
Rick
Location: United States
Date: May 25, 2017
Not sure what it was called but it mimicked the original ow output vintage style found on the original Casinos. In any case I ordered a pair to replace the original ones on the Casino. I was not enamored of the guitar when I played it through an AC30. I switched the pickups and thought that the Chinese made Casino would still not sound good so I put it away. When went to a friends recording studio and played it in a live room, this time without using a load-box and instead miking the cabinet of a Music-man 65 2-12 the sound was wonderful. I am now suing it with a wah through a Fender Blues deluxe run through a Koch load box and will now make this my practice and small venue guitar.