Single Coil for Humbucker
Item #: 10-304-111

Ratings Snapshot
Would recommend this product.
---
Product Details
Want single coil tones from a humbucker-size pickup? You got it! Our single coil for humbucker offers P-90 tonality with a little less mid-range and a more open sound. And while the output is similar to a P-90 you get enhanced clarity and chime without losing any of the grit and power. Constructed with Alnico 2 magnets and a single conductor braided shield lead wire. Sold as singles or sets, the pickup is designed to be installed in a humbucker rout with little or no modifications. Available in nickel or gold open top mounting rings and matte black, gloss black, or tortoise top.
DC: Neck 9.7K, Bridge 10.8K
Lollar Single Coil for Humbucker Pickups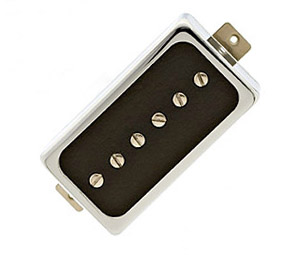 Matte Black/Nickel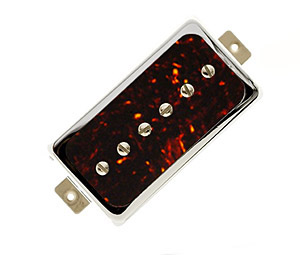 Tortoise/Nickel
Black/Gold
Tortoise/Gold
What They Are Saying
Ratings Snapshot
Would recommend this product.
Would recommend this product.
everything you wanted it to be
Patrick
Location: Minneapolis, MN
Date: August 3, 2018
Wasn't getting any tone of the Gibson stock 57 humbuckers in my 335 that I was particularly inspired by. looking to get a more hollow, p90/ 330 sound I stumbled onto these. I use lollars in just about every guitar, and these really took my 335 into a new dimension - I play the wide ranges and the 60s strat pick ups as well, and while they are all great, the 335 with these pickups sounds the best of them all. I couldn't recommend these enough. If you think it's for you, it probably is. ;)
So very good
bassetman
Location: WA
Date: July 13, 2018
These are just the thing for my 72 thinline. They fit the standard routing and they sound great. They look even better. I got the tortoise tops...gorgeous. They are wonderfully touch sensitive. Every bit of " English" you put into the strings comes through. Blues, rock, picking, strumming they sound clear and clean...until pushed a bit then they start to get dirty in just the right way. Even a little OD will get them growling as the attack gets aggressive. Just wonderful to play with finding all the tones. I'm in love.
The Fix!
Brad Bond
Location: United States
Date: May 18, 2018
Have constantly felt like every humbucking guitar I own sounds muddy. Would turn the bass virtually off on my amps and turn the treble up to get any kind of clarity and I am talking nice boutique amps. Gave a set of the SCHB a try and now I have usable range in guitar's tone knob and the tone controls on my amps. Grind, drive and clarity! These pups sound great clean or driven. Best switch I ever made. Thanks Lollar!!
Amazing.
The Memphis Guitar Spa - Ferner Fine Instruments
Location: Memphis TN.
Date: December 7, 2017
I am a P-90 lover, and I had a pre-72 Les Paul I was restoring that was already cut for humbuckers. Because I'm a custom builder, and use a lot of different Lollar Pickups, I was really curious about this one. My Les Paul has now been used on three different recording sessions in Memphis, including one at legendary Ardent Studios, simply because of its tone as well as playability. I loan it out quite often. There is nothing like this pickup! Clean, it sounds like a full bodied P-90, but dirties up just like a humbucker. It is neither of the two, but the combination of both in one pickup. I cannot say enough about this pickup, and I had a customer notice there were no reviews when I suggested it for an upgrade, so I had to give it accolades.