Gold Foil Surface Mount
Item #: 10-701-4

Ratings Snapshot
Would recommend this product.
---
Product Details
Our Gold Foil is a single coil pickup with unusual clarity and power. Expect crystal clear top end with lots of in-your-face harmonic overtones, plus a wide dynamic range that can make your tube amp give up the dirt. All this while retaining the detail and depth you expect from a Lollar pickup. Made with 44-gauge wire wound around rubberized ferrite magnet and available as single conductor only. Available as singles, 2 piece, or 3 piece sets.
DC: Neck 6.2K, Middle 6.8K, Bridge 7.25K
Also available in Floating Mount, Soapbar and Dogear mounting options.
Gold Foil Pickups

Soundfiles above played by Jeff Senn with a '73 Princeton Reverb.

Soundfiles above played by Jeff Senn with a '53 5C3 Wide Panel Deluxe.
Gold Foil Pickups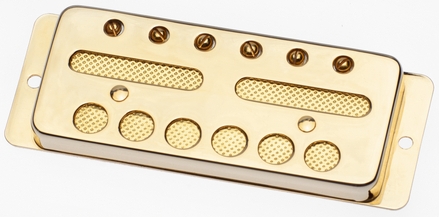 Gold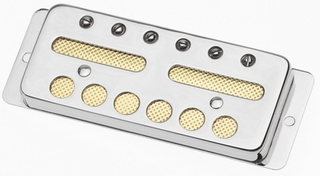 Nickel
What They Are Saying
Ratings Snapshot
Would recommend this product.
Would recommend this product.
PURE MAGIC
Ismael
Location: Oliva, Valencia (Spain)
Date: March 7, 2019
I installed this pickup in a Strat with an Imperial F-Spaced in the bridge and a SD Lipstick for Strat in the middle (250k pots). The result is just incredible. The Gold Foil has the SOUND I've been looking for half of my life. The notes sing beautifully, the plucking of the strings produce an almost acoustic quality... I'm in love with this pickup. Best thing I've ever bought. Also, I installed time ago a blender, so I can mix the sound of the Gold Foil and the Imperial, and the results are magical, so touch-sensitive and beautiful (both signals full on, but also, specially, with the Imperial and half the Gold Foil). Perfect balance and, aparentily, an almost infinite universe of sounds.
Solid Gold
Kenji
Location: Australia
Date: Apr10l 7, 2017
I bought this pickup just for the neck position to try out. I like Strat, Tele, humbuckers, and filtertrons, but this pickup really blew me away. The open top end, the clarity and separation in the low strings, it's really a well balanced and sounds stunning... airy and almost acoustic, but it works as amazing driven as it does clean. And even though it's single coil, it's very low in hum. It's my "desert island" neck pickup...