Charlie Christian for Tele
Item #: 10-803

Ratings Snapshot
Would recommend this product.
---
Product Details
Like its legendary namesake, this handmade neck pickup delivers a rich, deep tone with round top end and long sustain. The output is comparable to a P-90 or Imperial humbucker. While ideal for jazz players it also works well with moderate tube amp distortion. It's made with low resistance coil wound with 38-gauge wire — just like the original Charlie Christian pickups — along with a nickel plated blade pole piece and Alnico bar magnets.
DC: Neck 3.2K
Please note: This neck pickup is made for solid bodies so may require routing and minor pickguard modifications. Installation and routing diagrams are included with your order.
Lollar Charlie Christian Pickups
Black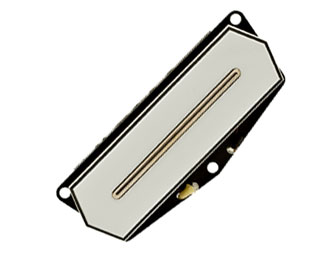 White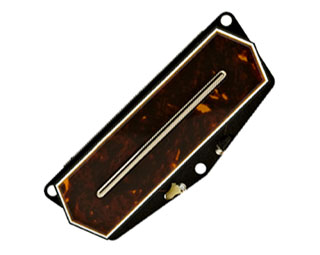 Tortoise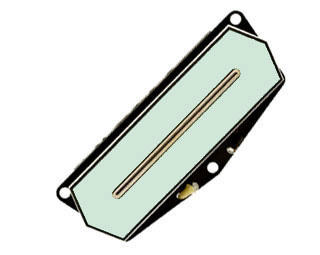 Mint
Pearl
What They Are Saying
Ratings Snapshot
Would recommend this product.
Would recommend this product.
Something uniquely different
Mateo
Location: Canada
Date: June 16, 2018
The pickup is a thing of beauty. The 'tuxedo' look in a black a pickguard on a white tele with the body mount version is hard to beat. It comes with a thin layer of plastic which helps it survive installation without a scratch. The sound is really something unique. I have spent quite a bit of time trying out various boutique pickups and have come to the conclusion that spending more doesn't necessarily result in a better sound. The CC pickup was one of the few times when a pickup exceeded my expectations. For playing loud clean lines which are thick and can stand comparison with horn lines, this pickup gets you as close as you are going to get with a pickup alone. Because of the particular EQ of the pickup it sounds loud and fat while seeming to resist breakup at minimally pushed gain levels. I know this because I had pickups in other positions of my tele which displayed lower perceivable volume but were breaking up more at the same volume. This pickup can be used with higher gain but, like many pickups ,it plays much better with some sounds than with others. For clean sounds it is great through a Brownface or Blonde amp set short of breakup. For distortion, 'Dumbly" sounds seem to work well with this pickups inherent tone. I think the price point is a little high, and it is very difficult to find bridge pickups which pairs well with it. The BS pickup is not really of the same design (different gauge wire and a ceramic magnet) but matches it in output well. I obtained the pickup from Lollar's rep in Kitchener Ontario and it didn't come anywhere close to the predicted time nor was there good communication from the Canadian dealer. Overall, this is a specialty pickup which delivers something special. Other pickups might be more flexible but they don't deliver what the CC pickup does. I am really impressed with Lollar's offering and will probably purchase this pickup for other guitars as well.
Amazing unit!
J. Vega
Location: Los Angeles, CA
Date: February 22, 2017
This pickup can do just about anything, but its most powerful trait is to make a Tele sound like a "jazz box", although it's also versatile and capable of producing a wide variety of sounds. A highly-recommended modification for any Tele.
You will not regret this pickup!!!
Billie
Location: Durham, NC
Date: February 8, 2017
If you've ever heard Charlie Christian and studied his music in any way, you know the perfect way to become anywhere near to being able to replicate his tone - you're going to need this sweet pickup. I installed this in the neck position and everyone who has picked up my custom swamp-ash tele has been amazed. It's clear, beautiful, with a slight magical reverb quality. Tone is perfect for clean jazz leads and for "chunking" chords you can add a little tone treble/sparkle and really make the instrument sing without sacrificing a thick bottom end. Have I said it's magic? Put that pickup through your Fender Twin, blast the tubes, and you'll be surprised as how it handles natural tube distortion. I can't say enough wonderful things about this pickup. Treat yourself to it and you won't regret it.
Simply Amazing
Joshua
Location: NY
Date: February 8, 2017
The Lollar Charlie Christian pickup is perfect for those looking for a dynamic pickup that offers an extremely pure tone. The bass is tight but at the same time highly responsive, while the mid-range and high-end expression can grown or sing as you please. Sometimes the pickup provides a completely transparent sound, as if your fingers were reaching directly into your tube amp. High recommended...