Strat Blonde
Item #: 10-203

Ratings Snapshot
Would recommend this product.
---
Product Details
Our Strat Blonde pickups are bright yet smooth. With a scooped midrange, full bass, and clean attack the medium low output sounds glassy and spanky. When played softly you get a full, round tone. Hit it hard and the attack and treble leap forward in the mix. The Strat Blonde works especially well with overdrives. Features Alnico 2 flat poles, scattered wound wax potted coils, and vintage style cloth covered lead wire. Middle is RWRP for humbucking operation in positions 2 and 4.
DC: Neck 5.6K, middle 5.8K, and bridge 6K.
Lollar Strat Blonde Pickups

All Strat Blonde soundfiles with dirty tone were played by Greg Timmons using a Strat with swamp ash body and maple neck played through a 1958 Fender Tweed Deluxe amp with a 1963 Fender stand alone reverb.

All Strat Blonde soundfiles with clean tone were played by Greg Timmons using a Strat copy with an ash body and maple neck/ fretboard through a Fender Super Reverb.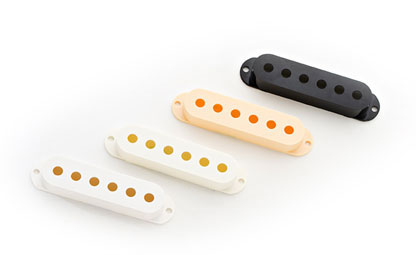 L-R: White, Parchment, Cream, Black
What They Are Saying
Ratings Snapshot
Would recommend this product.
Would recommend this product.
Dirty blondes
M black
Location: USA
Date: June 16, 2017
Perfect!!!
Wow. Just wow.
Dave M.
Location: Dartmouth MA USA
Date: May 25, 2017
I got the Dirty Blonde set about a year ago to install in a '96 Hamer Daytona. Now this guitar always sounded great, until I plugged it in. The original pickups didn't reproduce all the harmonics and overtones I could hear coming from the wood. I tried a bunch of different pickups in this guitar. Lace, Seymour, Fender Custom Shop. All good but not quite there. Not quite what I was searching for. A friend suggested I check out Lollar. I did and that was that. This set reproduces all the chime, harmonics and richness of my guitar. That connection between what I feel in my hands and what I hear when I play is very present. The clarity, the way these take to overdrive and fuzz, the way they quack in the 2 and 4 positions. I've never heard a better set in a Strat. I recommend these pickups without reservation. Listen to the sound clips. Do your research. Try the Dirty Blondes and see what I'm talking about.
Amazing tone for my '63 Strat
Malmaore
Location: MN
Date: February 7, 2017
I've bought many different brands / types of pickups for my main Strat - a '63 parts guitar. Nothing ever sounded right till I found the Dirty Blonde. It's perfect. Till this day, every time I play out, someone comments on how good the guitar sounds.