P-90 SoapBar Underwound (Neck Only)
Item #: 10-301-1311

Ratings Snapshot
Would recommend this product.
---
Product Details
This soap bar version is wound 5% less than the stock neck to produce equal volume between the neck and stock bridges while playing chords. It also helps you get slightly less bass from the neck position. Made with de-gaussed Alnico 5 magnets.
DC: Neck 7.7K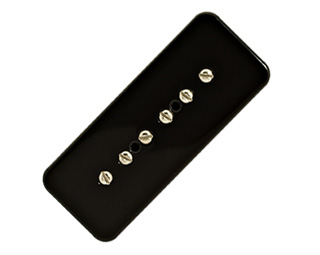 Black
Cream
What They Are Saying
Ratings Snapshot
Would recommend this product.
Would recommend this product.
wow
Aaron
Location: Troy, AL
Date: March 6, 2018
I've owned a bunch of guitars and tried a load of pickups over the years looking for "that tone". gretsch, strats, gibsons, you name it. I recently got an MJT tele with lollar P90s (underwound in the neck, overwound in bridge) and they are my new favorite pickups. the neck pickup especially. nice and chimy. everything you love about single coils with some extra girth.