Vintage Blonde Pickup for Strats
Price: $90.00

Listen
Our Vintage Blonde Strat style pickups are bright but smooth. Scooped midrange, full bass with smooth attack, medium low output sounds glassy, chimey, spanky. Play soft and get round, smooth tone; hit it hard and the attack and treble will come forward in the mix. Works well with overdrives. Alnico 2 flat poles, scattered wound, wax potted coils. Vintage style cloth covered lead wire. Middle is RWRP for humbucking operation in positions 2 and 4.
Dirty Blonde Sets feature the same great neck and middle pickups, but with our Special S bridge substituted for a thicker bridge tone with a bit more output.
Neck 5.6K, Middle 5.8K, Bridge 6K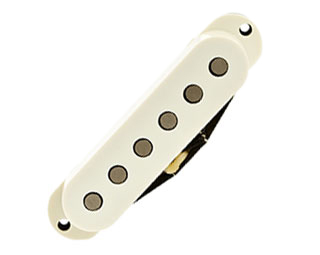 Cover Options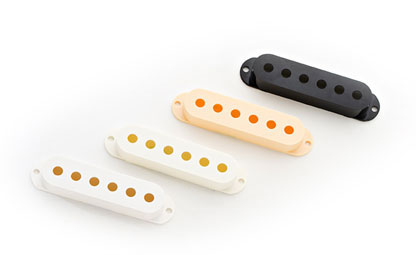 L-R: White, Parchment, Creme, Black

MP3 Files of Vintage Blonde Strat pickups—CLEAN
All Vintage Blonde soundfiles with
clean tone
were played by Greg Timmons using a Strat copy with an ash body and maple neck/ fretboard through a Fender Super Reverb.