P-90 DogEar
Item #: 10-302-1

---
Product Details
Our flagship pickup and an industry standard. Scatter wound with de-gaussed Alnico 5 bar magnets, the P-90 soapbar gives you a fat, clean tone with a smoother treble ideal for harder, driving rock with more grind. It sounds like an old P-90 rather than a new pickup with hard edges.
The neck and bridge tones are nearly equal, with the bridge sounding slightly hotter when playing single notes. Pickups can be purchased separately or in matched two or three piece sets. RWRP sets for hum-canceling operation with single conductor and braided shield lead wire. Available in black or cream pickup covers.
DC: Neck 8.2K, Middle 8.73K, Bridge 9.1K
You can also purchase a Shim Pack for Dog Ear pickups, which contains the six most commonly used shims. They can also be stacked for optimal height.
Lollar P-90 Dog Ear Style Pickups

All P90 Soap Bar soundfiles with clean and dirty tone were played by Greg Timmons using a Agile LP copy and a brown Fender Vibrolux amp.

This song is from the Supersucker's EP of the same name. The guitars on this clip use our P-90 pickup.Hear more of the Supersuckers at www.supersuckers.com

All guitar sounds were recorded with our stock P-90 set in a Les Paul and played through a Vox amp, with no extra equalizing during mix down.

Clip 1 using our standard P90s played with mild overdrive.
Clip 2 using our standard P90s played with overdrive.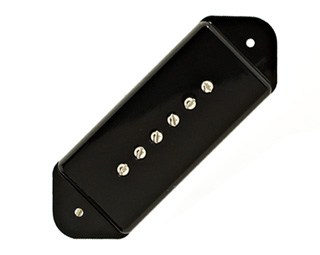 Black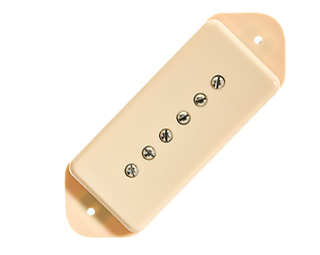 Cream
What They Are Saying
Ok... so there aren't any reviews yet, but there will be soon, we promise!
Be the first to rate this item! Write Review