Johnny Smith Style Humbucker
Item #: 10-405

---
Product Details
This Lollar take on a classic pickup gives you a sweet, warm sound with stellar string definition and a sparkly clear top end. The tone lives somewhere between our Firebird® and mini humbucker, giving the Johnny Smith a pleasing acoustic quality with the heft and balance of a humbucker. Comes with the standard wrap-around neck bracket with overall pickup height of 15/32" or pickguard mount. Available in nickel or gold.
DC: Neck 6.2K
Lollar Johnny Smith Style Humbucker Pickups
Nickel
Gold
Neck Mount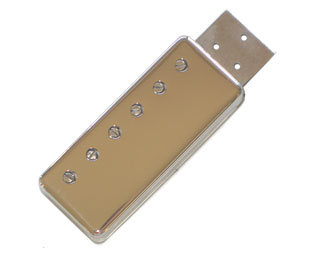 Pickguard Mount
What They Are Saying
Ok... so there aren't any reviews yet, but there will be soon, we promise!
Be the first to rate this item! Write Review