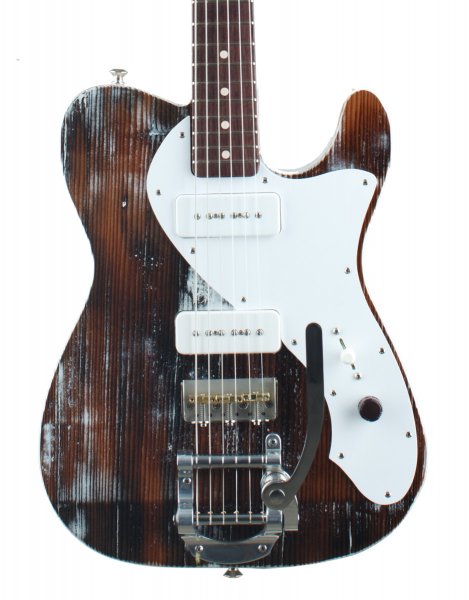 Here at Lollar Pickups, we love working closely with some of the best builders in the industry to find the right tone for their custom creations. So we thought we'd spotlight some of the unique builds and the thought process behind them. Next up is Creston Lea and his Water Tank Custom, which was built for Luke Doucet using our 50's Wind P90's. 
1. This guitar is has such an interesting design. Is this something Luke specifically wanted, or did you dream it up?
Luke was very specific about some things – neck dimensions, for instance – but wanted to be surprised by the final look. We emailed back and forth and he listed a few of my guitars which he especially liked. I've had really good luck with western red cedar bodies and mahogany / rosewood necks, so I'm sure I suggested that combination early on. I started by whitewashing the body but the old pickle brine stain was so dark, the whitewash looked pretty lousy sitting on top of it. I started sanding it off and, at a certain point, it began to look like something appealing – so I stopped sanding and started spraying clear lacquer. I wrestled with pickup cover and pickguard colors for a while, but ultimately settled on two from my precious, dwindling stash of white soapbar covers and a 1-ply white guard.